What's goin' on at CasaS? Well, we're letting the dogs in and out about 50 times a day. I don't get that at all.
But summertime = arts and crafts as far as McKid is concerned. She's been MAKING STUFF.
First, she made jewelry:


That's my necklace you see there. Butterflies and beads. And I'm supposed to wear it every day. If I don't have it on when she gets here, she goes and finds it and puts it on me. I've even agreed to wear it to church on Sunday, which is her birthday. It'll make everyone jealous, I know.
Then we took an empty oatmeal box and turned it into a beautiful canister. Right now it's storing other art supplies. She's anxiously awaiting my finishing up the next box so she can have a matching set:


And we've also finished up two, count 'em two, potholders on our loom. The third one is in progress, as you can tell: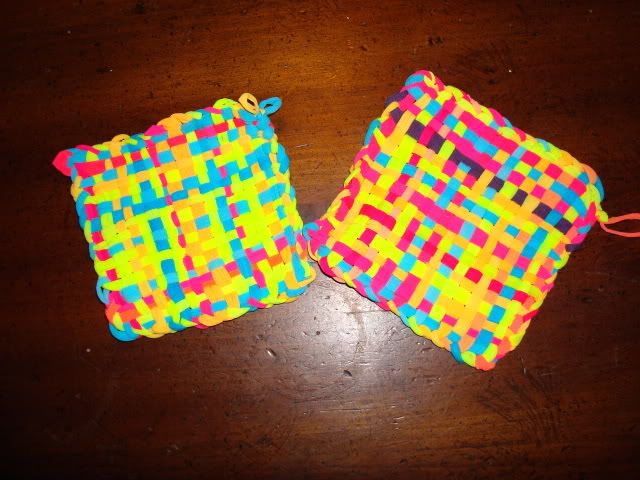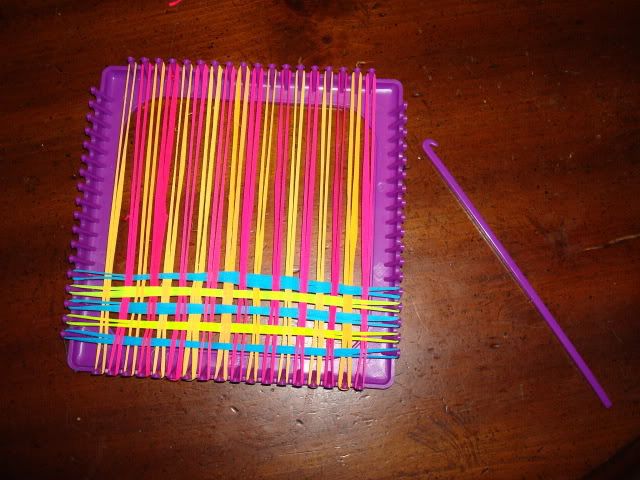 The loops that came with this loom are truly pitiful. Nothing at all like the sturday cotton ones back in my day. (Dating myself immediately!) But they are colorful, and McKid likes them.
We watched a video on weaving with yarn on Youtube, so we think we will try that next. If it works, then McKid will make some sturdier potholders to give as Christmas gifts. We'll see. Patience is an issue around here. And not just for McKid.
But give her a flat space and she will immediately start setting up a writing/art desk. PapaC took his laptop to work today, so his worktable (with wheels!) has become today's creativity office:
LaMa has extra produce to give away. Pretty soon I may have extra ART to give away!
Happy Wednesday, ya'll!