Take the quiz: "What Historic Woman Are You?"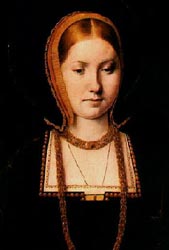 Katherine of Aragon
Daughter of Ferdinand and Isabella of Spain, Katherine married Henry VIII of England in 1509 and, after 20 years of marriage and only a daughter to show for it, was displaced by Henry for a younger woman. She refused to grant him a divorce, even when he made her live in a shack with no funds or medical care. To her dying breath she refused to acknowledge that she was not the Queen. She was stubborn, brilliant, pious, and beautiful. Read more about her: http://iml.jou.ufl.edu/projects/STUDENTS/Bracewell/Kofa.htm
That fits; I would consider myself Queen until I died. I actually DO consider myself queen, even now!