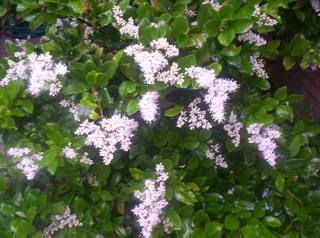 Outside Our Front Door
or, "Look at all the BEES, Mama!"
Whatever these bushes are, and I'm thinking they're ligustrums, they have very aromatic white flowers every spring. And we are overrun with bees! Which both fascinates and frightens the McKid. She's all about the plethora of inchworms we have creeping about, not so much about the bees.
I tell her she can grow up to be an entomologist when she grows up, if she likes bugs.
She says, "No mama. I'm not gonna be a ettymology. I'm going to be a chef. I'm going to be a chef at Olive Garden Dallas."
Woo hoo! All the free Italian food I can eat one day.