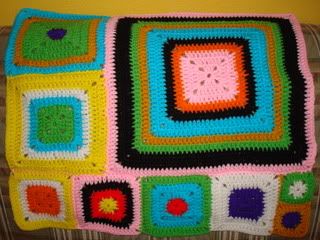 Here's what i've done so far. Three panels (out of 10, and the smallest--they get progressively larger as you go along) done. Ends woven in, panels crocheted together. It's amazing what an ice day will do for you.
Progress will be much slower in the future.
I chose a very unsophisticated color palette on purpose for this first run through. I did that so that I could quickly join the panels using single crochet, which lets little pieces of color show through. Since there is so much other color, I think that looks fine on this blanket. If I were doing it in jewel tones or something, I would whipstich instead, which takes longer, but shows less.
I'm LIKING this very, very much.